About Gary and Mel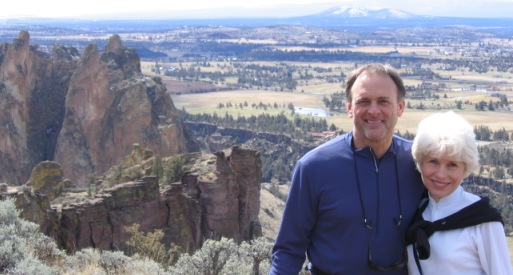 Gary and Melondie Gentry, REALTORS® and owners of The Gentry Group REALTORS®, Inc. at Keller Williams Realty work their business the way they live their lives – full throttle, living life to the fullest! This obviously applies whether they are kayaking, mountain climbing, caving, skydiving or helping clients realize their housing or real estate investing dreams.
Hard work, honesty and perseverance have guided Gary & Mel to success in their personal life and in their business. "When one has an attitude of faith and gratitude, it is hard not to live in, and create for others, an environment of fun, trust and happiness," Gary stated. It is obvious that the Gentrys apply this mind-set with their clients, friends and family.
Gary Gentry was the first Keller Williams agent with Gary Keller and Joe Williams when they started the company in 1983 in Austin. "I was in the first training class, sold the first property and had the first closing," Gary said proudly.
Gary recounts his reaction when he was approached by Keller and Williams to join the team. "I readily accepted their offer because I felt they had similar values to mine, successful past real estate experience, and they were extremely learning-based."  He recalled that when he met Gary Keller, "the first thing I saw on the corner of his desk was a huge training manual, and during that interview it was obvious to me that if I went to work with him I'd get great training."
For Gary, joining the start up Keller Williams Team turned out to be a great decision and the start of an exciting adventure into a new career. Today he is among the top ½ percent of real estate agents in the United States in closed sales volume. The Keller Williams Southwest Market Center in Austin, where the Gentrys work, has been recognized as the number one real estate office in the world in the number of properties sold for five years running, according to the national real estate trade journal, Real Trends.
Gary Keller, Founder and Chairman of the Board of Keller Williams International, contributed his opinion in his national best selling book, The Millionaire Real Estate Agent (It's Not About The Money,) when he stated "Gary is one of the finest real estate agents to ever associate with me and I am so grateful for his faith, influence and commitment. Gary, thank you for changing my life!" The Gentry Group has been ranked by the Austin Business Journal as one of the Top 25 Real Estate Teams in Central Texas for six years running. In addition, they have been recognized as one of the Keller Williams Top Groups internationally. This is no small accomplishment, since there are now more than 75,000 agents working with Keller Williams across North America.